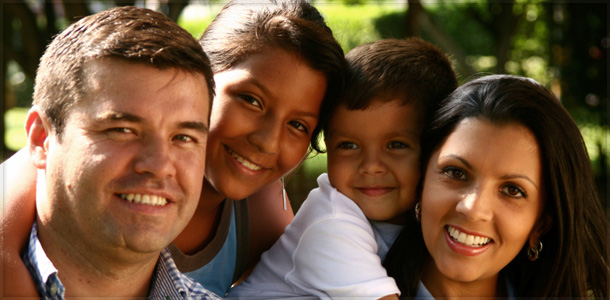 At Thunderbird Dental Group, we help patients in Langley achieve the attractive, confident smile they've always wanted.
Smile Makeovers
Few of us are born with a perfect smile—and those that are don't necessarily keep it that way. If you're self-conscious about your teeth, a smile makeover may be just what you need to face the world with renewed confidence.
Makeovers can involve a variety of treatments. For example, if you have stained or discoloured teeth, our Zoom!® in-office whitening procedure may be all you need to brighten your smile. Tired of flashing so much silver when you talk? Maybe it's time to replace your old fillings with natural, tooth-coloured composite (mercury-free) fillings.
Damaged teeth can be made to look like new with porcelain crown or veneer.
Whatever your situation, the team at Thunderbird Dental Group can make your smile a winning one!
Veneers
Ultrathin porcelain veneers are a simple but effective solution for enhancing your smile.  They can be used to permanently whiten teeth, straighten crooked teeth, improve the shape of teeth, repair damaged teeth, or resurface previous porcelain crowns or bridges.
Because veneers are so durable and thin, your existing teeth may need little or no modification before the veneers can be applied.  This may mean no local anaesthesia and no pain during or after treatment.
Veneers are also a relatively rapid esthetic solution – often they can be prepared and seated in just a few appointments!
Teeth Whitening
Teeth whitening is a procedure that provides sizeable value for investment when restoring a youthful and vigorous appearance.
For rapid results, we use the professional quality Zoom® Teeth Whitening system, which uses a bleaching gel and a dental laser to brighten your smile up to 8 shades in one appointment (of about an hour).
Alternatively, by using our professional take-home whitening kits, you can whiten teeth up to 6 shades over the course of several days.
Invisalign Invisible Braces
Invisalign is the clear, modern solution to achieving the beautiful smile you've always wanted, at any age.
Whether you have an overbite, underbite, crossbite, widely spaced or crooked teeth, Invisalign invisible braces can help.  Impressions of your teeth are converted into a 3-D digital image so that our dental experts can accurately and effectively design your new smile with computer software.  We will then provide you with a series of clear, removable aligners that gradually straighten your smile without the inconvenience of metal braces or the social issues associated with "metal mouth".
This "lifestyle friendly" solution is very effective way to improve your smile and your bite.
Contact us to book a Cosmetic Dentistry consultation and learn what solutions would suit you.