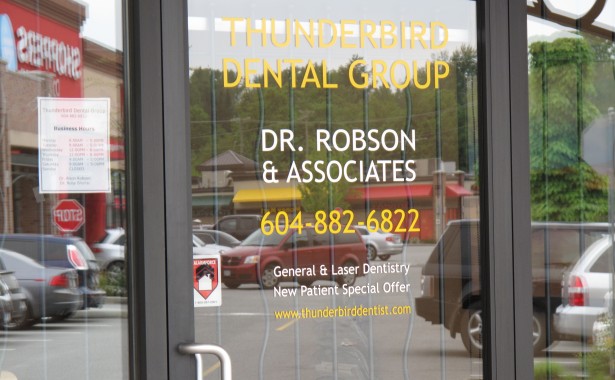 At Thunderbird Dental Group we strive to improve the lives of our valued patients in Walnut Grove and Langley by providing beautiful smiles and advanced oral health services in a relaxed and enjoyable environment.  Whether you're in need of emergency treatment or want a full smile makeover, our expert dental team will help you achieve your goals!
Dr. Alson Robson
Dr. Alson Robson, General Dentist, came to dentistry the way many Canadians do; he lost a tooth due to hockey injury in his youth, leading to multiple dental interventions. These early exposures to restorative dentistry led him right to the profession. His personal experiences gave him a profound understanding of his patients' therapeutic experience and empathy for the anxiety they can suffer.
Dr. Robson graduated with Honours from Dalhousie University Faculty of Dentistry in 1998. He is a conservative dentist who is well versed in all aspects of the field. He enjoys cosmetic dentistry and the challenge of endodontics.
His patients love him for his easygoing demeanor and gentle care.
Dr. Elisha Lee 
Dr. Elisha Lee, General Dentist, embraces the goal of helping patients find their self-confidence through a great smile.
Dr. Sunita Kadam
Dr. Sunita Kadam, General Dentist. Bio is coming soon.
Professional Team

Office Manager Emily Schierer and the Thunderbird Dental Group professional team are trained professionals who will treat you with respect and great service.  They are dedicated to ensuring that your appointments and experience in the practice is comfortable – feel free to consult them about your every need for scheduling, payments, or orientation.
Contact us to book your appointment today.
---
Thunderbird Dental Group is proudly owned by Dr. Alson Robson, Dr. Amin Shivji, and Dr. Edmund Wong.